Vans x Skateistan: The new collection
3 November 2021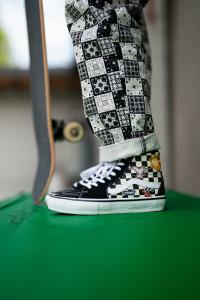 What's the partnership?
Vans recently announced a new footwear and apparel collection with Skateistan. The collection will be available from 11 November and was inspired by the artwork of Skateistan students. Vans will donate $200,000 to Skateistan to support our mission to empower children through skateboarding and education. Vans also launched a campaign in the summer of 2021 called 'Where It Starts' to celebrate the grassroots and communities of skateboarding. This campaign also helped us here at Skateistan as a percentage of proceeds from all customs were donated to support our programs. 
The Vans x Skateistan collection will be available in retail stores and at vans.com/skateboarding from 11 November 2021.
Cool. So what exactly is Skateistan? 
We're a non-profit organization which aims to empower children through skateboarding and creative education. We were founded in 2008 in Kabul, Afghanistan and we now run programs in Cambodia, South Africa, Kenya, Jordan and Bolivia. Our programs aim to help children grow up into future leaders; through the fun and freedom of skateboarding, as well as a creative and safe environment in which they can learn skills that last a lifetime.
So how does the Skateistan model work? 
In Cambodia and South Africa we have Skate Schools - physical spaces which include classrooms and a skatepark where children can play and learn. In Kenya, Jordan and Bolivia we do not have a physical space, but we run programs in partnership with other projects in public or hired spaces. We run a range of programs for all ages, but all children will experience skateboarding tuition as well as creative education. We focus on helping children to express themselves and their ideas freely and creatively and we encourage them to see themselves as changemakers for a better world. Lessons include human rights, protecting the environment and developing community. It's completely free for children aged 5-17 to attend our programs. 
As a non-profit, we rely entirely on donations to keep rolling. 
If I support Skateistan, what am I supporting? 
Supporting Skateistan is a great idea! In many of the countries where we work, children lack safe spaces to play and learn. By supporting Skateistan, you're helping to provide a safe space, trustworthy adults and the opportunity to learn skills which set children up for the future. You're also giving children a chance to have fun - something which is overlooked all too often in their lives.
Nice! So how do I do it? 
There are many ways to support Skateistan! One is to buy your favourite items from the Vans x Skateistan collection, as every purchase goes towards their donation of $200,000. Another is to make a donation directly to Skateistan which you can do here. And if you really love the sound of what we do, why not become a Citizen of Skateistan and join our monthly donor community? 
Find out more about the Vans x Skateistan collection here.