Skateistan Bamyan update: Skate School Apprenticeship
28 May 2021
Skateistan Bamyan will be our fifth Skate School, third in Afghanistan where up to 800 children per week will soon be able to enjoy a safe space, where they can skate, play and learn. The construction on the skatepark itself is officially complete, and construction on the rest of the building will be finished in a few months time. 
In March and April this year, an international team of expert skatepark builders traveled to Bamyan to work with local construction teams to create this new skatepark. New Line Skateparks supported this build and brought with them a team including Jesse, Leo, Max, Dan, and Lisa. They shared knowledge and expertise with three of our Afghan staff members, Merza, Feraidon and Ainullah, who all completed their first apprenticeship in skatepark building.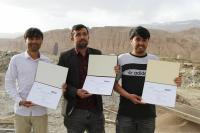 We caught up with Skateistan team members Feraidon and Ainullah to ask them about their experiences in the Bamyan skatepark apprenticeship program. 
For Feraidon, this was an incredible opportunity to build on his prior carpentry experience. Feraidon was part of the team who helped to build small wooden ramps for the Skate School in Mazar. The team from New Line transferred skills in building concrete ramps, and Feraidon said of their time together, "That was very interesting for us. And I got a lot of experience building concrete ramps, I got familiar with many new tools! I believe in myself that now I can build concrete ramps by myself." 
Building capacity for staff members is incredibly important for Skateistan. For Ainullah, this was his first time on an airplane, traveling from Mazar-e-Sharif to Bamyan province in central Afghanistan. Ainullah talked about learning new skills to gain expertise and to build a career, and that the experience led to a really nice friendship with the New Line team members. 
"In Afghanistan I don't think there are local people building concrete ramps, so it was important for us to learn and use our knowledge for children. I learned a lot including the steps to make the concrete and the structure of the concrete ramps. Now I will be able to make concrete ramps with my friends Feraidon and Merza." - Ainullah
Construction work continues on the rest of the Skate School, which is funded by the German Federal Foreign Office. 
Some of our students have already tested out the space and they're so excited about the opening of their very own Skate School.
Thanks to The Skateroom who have provided us with the funding to make this skatepark a reality. Their support for Skateistan during the years has made this dream a reality. 
Skateistan needs your support to keep providing safe spaces and opportunities for children to fulfil their potential. If you're in a financial position to do so, please consider making a donation to Skateistan today. 
Want more good news like this? Sign up for our monthly newsletter updates now.